Donald Trump in Vietnam for summit with North Korean leader Kim Jong-un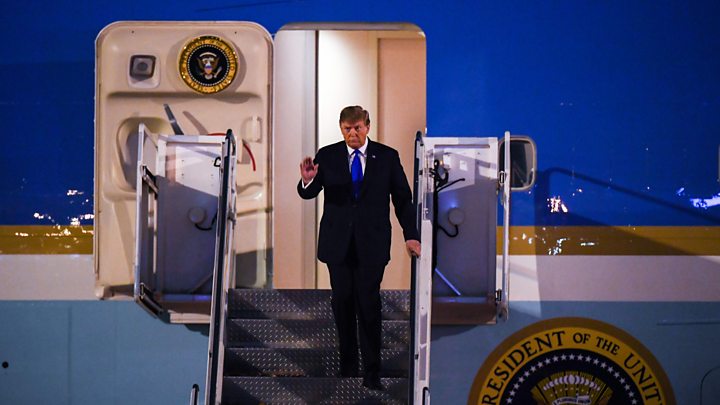 US President Donald Trump has arrived in Vietnam ahead of his second summit with North Korean leader, Kim Jong-un.
Air Force One landed at Hanoi's Noi Bai airport hours after Mr Kim reached the Vietnamese capital by train and car.
The summit, which is due to take place on Wednesday and Thursday, follows a historic first round of talks in Singapore last year.
The two leaders are expected to discuss progress towards ridding the Korean peninsula of nuclear weapons.
Ceremonial guards had lined a red carpet laid out for Mr Kim as he arrived at Dong Dang border station on Tuesday morning. He was then driven to Hanoi, where heavy security and flag-waving crowds were waiting for him.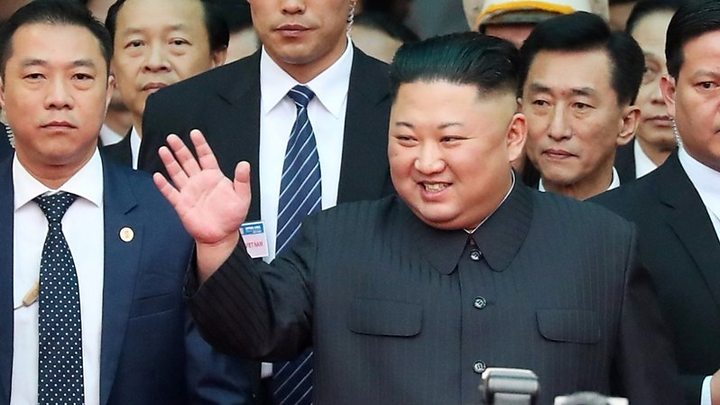 Mr Kim is thought to be travelling with his sister Kim Yo-jong and one of his key negotiators, former General Kim Yong-chol, both familiar faces from the previous summit with Mr Trump.
Why did Mr Kim take a train to Vietnam?
The journey from Pyongyang to Vietnam took more than two days and traversed about 4,000 km (2,485 miles). Had Mr Kim chosen to fly to Vietnam he would have got there in a matter of hours.
As Mr Kim's train passed through China, roads were closed and train stations shut down. Chinese social media was abuzz with road closures, traffic congestion and delayed trains.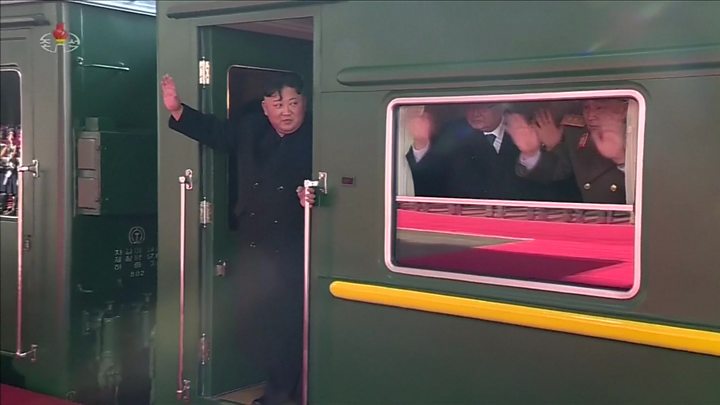 Vietnam's Dong Dang station was also closed to the public ahead of his arrival on Tuesday morning. He is now being driven around 170km (105mi) to Hanoi by car.
It's little surprise that Mr Kim chose to take the train as this is how his grandfather, North Korea's first leader Kim ll-sung, travelled when he went to Vietnam and Eastern Europe.
That alone would have made it a highly symbolic move for the younger Mr Kim.
Mr Kim's private green and yellow train has 21 bulletproof carriages and is luxurious, with plush pink leather sofas and conference rooms so the journey would not have been uncomfortable.
What will Trump and Kim do in Vietnam?
Unlike the North Korean leader, Mr Trump travelled to Hanoi by plane. The presidential airliner Air Force One left Andrews Air Force Base in Maryland, landing in the Vietnamese capital on Tuesday night local time.
Details of their schedule are only just becoming clear. Mr Trump will meet Mr Kim for a brief one-on-one conversation on Wednesday evening and then they will have dinner together with their advisers, according to White House spokeswoman Sarah Sanders. On Thursday, the leaders will meet for a series of back-and-forth meetings.
Why are they meeting again?
The Hanoi meeting is expected to build on the groundwork of what was achieved at the Singapore summit last June.
That meeting produced a vaguely worded agreement, with both leaders agreeing to work towards denuclearisation – though it was never made clear what this would entail.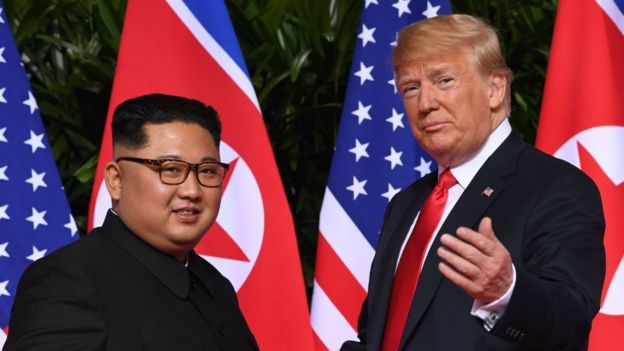 However, little diplomatic progress was made following the summit.
This time round, both leaders will be very conscious that expectations will be high for an outcome that demonstrates tangible signs of progress.
However, Mr Trump appeared to be managing expectations ahead of the summit, saying he was in "no rush" to press for North Korea's denuclearisation.
"I don't want to rush anybody. I just don't want testing. As long as there's no testing, we're happy," he said.
Washington had previously said that North Korea had to unilaterally give up its nuclear weapons before there could be any sanctions relief.
Why Vietnam?
It's an ideal location for many reasons. It has diplomatic relations with both the US and North Korea, despite once having been enemies with the US – and could be used by the US as an example of two countries working together and setting aside their past grievances.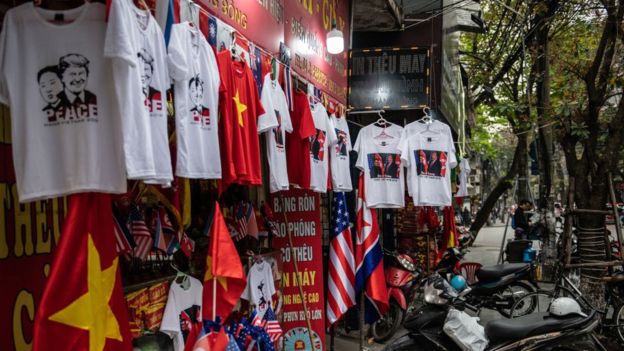 Ideologically, both Vietnam and North Korea are communist countries – though Vietnam has rapidly developed since and become one of the fastest growing economies in Asia, all while the party there retains absolute power.
https://www.bbc.com/news/world-asia-47366398
Filed under: BBC, Big Business, Capitalism, Communism, Donald Trump, Economics and Finance, Foreign Affairs, Global Warming, HOPE!, North Korea, Peace |