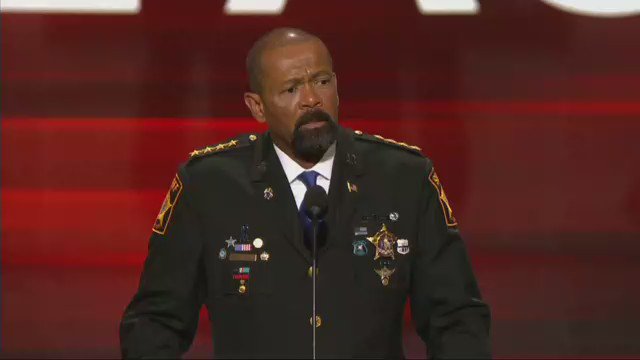 My favorite American hero above all other heroes appearing on our country's television for the past decade is David Clarke, a man from the Milwaukee, Wisconsin police force.
Note the lack of chubby cheeks, paunch, and droopy eye lashes.  Obviously, he is not a leftist, hateAmerica Obama slick, crooked Democrat politician.  In his voice's content one can immediately fall in love with the honesty of his words, and  rational male, real full blooded, problem solving male response confronting the major disorders threatening  our nation's very being.
There can be no mistake,  he, like our today's  president-elect, Donald J. Trump, is  a full blooded American who has been educated to know the difference between right and wrong, between truth and lie, between the rule by  American Constitution and Leftist Sanctuary Cities, Black Racism and Rebellion, and today's Obamaling-Hillary built  Democrat Party.
The color of racism in our today's United States is overwhelmingly BLACK….and has been made legitimate by the most antiAmerican president in our nation's history,  Islamist Barack Hussein, twenty plus years  a member of Jeremiah Wright's HATE AMERICA black racism "GOD DAMN AMERICA" church in Chicago.
And then there is chubby, grumpy, sour leftist from Georgia,  made a fat and lazy politician in Washington  after heroism in the segregation wars of our South fifty years ago, announcing he will segregate himself from the Donald J. Trump Presidential  Inauguration, by claiming Mr. Trump is not legitimate for the office.
Racial prejudice of today's preTrump presidency is OVERWHELMINGLY BLACK….led by  Black Lives Matter leftists, anarchists, marauders, killers, thugs of all colors, sexes, shapes and sizes, organized, funded by leftist fascists.
I believe our America's greatest heroes today are BLACK, MALE, WELL EDUCATED BY LIFE'S EXPERIENCE or have SURVIVED TODAY'S  COMMUNIST FEMINIZED AND FEMINAZI SOCIAL SCIENCE DEPARTMENTS OF OUR AMERICAN UNIVERSITIES FROM COAST TO COAST.
(Please learn more about American Hero, David Clarke by clicking on:  http://heavy.com/news/2016/07/sheriff-david-clarke-milwaukee-black-lives-matter-republican-national-convention-you-tube-cnn-quotes-don-lemon-guns-baton-rouge-trump/)