A Seat at the Table: Honoring Those Who Made the Ultimate Sacrifice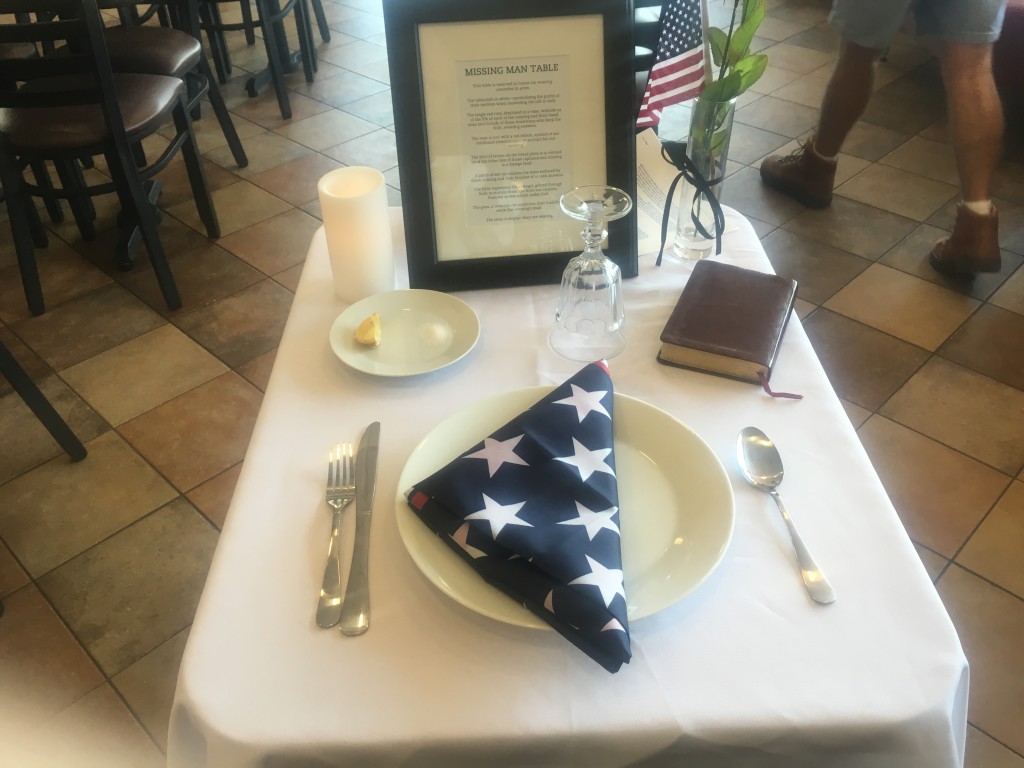 Missing man table recognizes servicemen and veterans
He spent more years in the Army than he did out of it. Richard Weik was just 17-years-old when he enlisted. He served his country for 29 years and nine months, retiring a command sergeant major, the highest rank an enlisted soldier can achieve.
That's more than a quarter of a century of training, experience, and the beauty and burden that comes with military service, especially in war time. Weik commanded hundreds of paratroopers in the 173rd Airborne Brigade, with two combat deployments to Iraq and Afghanistan.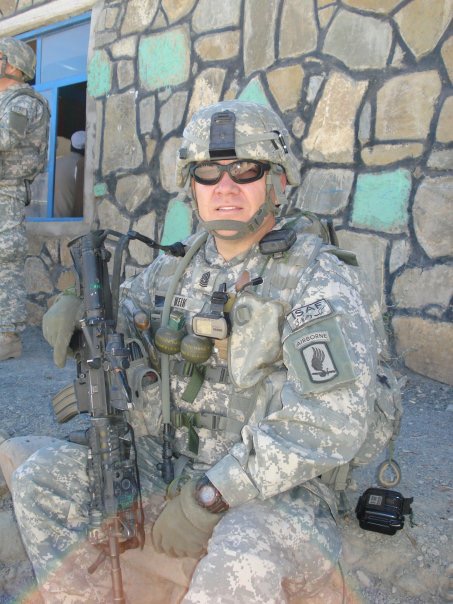 Richard Weik serving in Afghanistan
He's now the president of a major military and police equipment supply company in Columbus, Georgia. Those deployments and his Army career are in his past, but one thing is with him every day: the soldiers he lost. He calls them brothers.
"I was first sergeant in Iraq and sergeant major in Afghanistan, and in those positions, you are kind of like the father of the battalion," Weik says. "When you lose one, it's like losing a family member."
The 173rd is a small brigade – and it lost many. According to the 173rd Airborne Brigade National Memorial Foundation, 91 soldiers from that Brigade died in Afghanistan and Iraq. Weik has been to many hospital rooms, to too many funerals.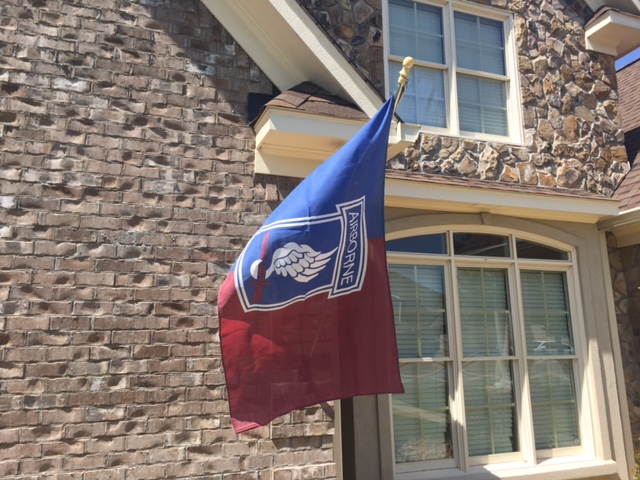 "You form a tight bond with these soldiers because you do hard things together fighting the enemy, and all of a sudden they are gone," he says. "You come back, and their wives are still there, their kids are still there playing in the front yard – and you just think about them all the time." He recites the dates his close friends died the way the rest of us remember birthdays.
The month, the day, the year, the location. "They're not here. It's devastating." In rememberance, soldiers like Weik wear black bracelets for the fallen. The bands list the names, units, and killed-in-action dates for each of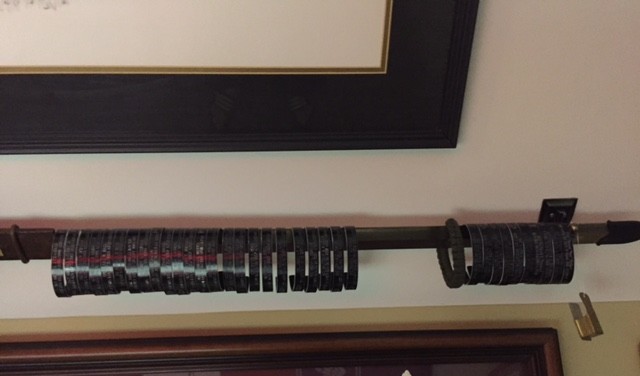 Memorial bracelets for each of Weik's fallen soldiers
"I have a sword in my man cave with about 21 bracelets on it for soldiers killed in combat and about 10 bracelets for people who were killed in accidents or took their own lives," Weik says. "You never stop thinking about the ones who are gone."
A Veteran Sets the Table for Memorial Day
Nearly 300 miles away in Florida, another veteran takes an opportunity to remember the fallen, like the ones on Weik's bracelets and so many more.
"You never stop thinking about the ones who are gone."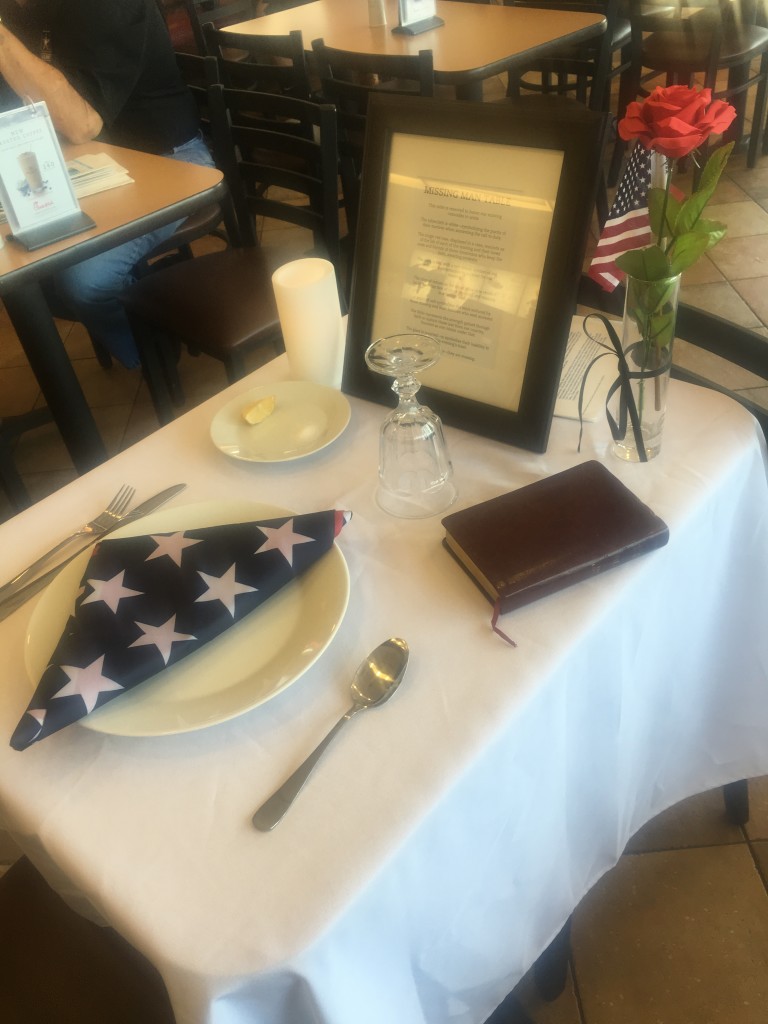 The Missing Man Table inside the Chick-fil-A at Woodlawn Square in Marietta, GA
"It's a tradition in military services when you have a formal celebration to have a table for those who didn't make it back," Storm says. "It's called a Remembrance Table, a Fallen Soldier Table – it's called a lot of different things."
The Meaning Behind the Remembrance Table
The National League of POW-MIA Families calls it a Missing Man Table. Typically, it is part of a ceremony where someone reads a script explaining the meaning of every item at the table. Among the symbolic items: a white tablecloth for the purity of the service members' motives in serving their nation, a pinch of salt for the tears their families shed and an empty chair that will never be filled.
That ceremony has been modified to a static display, and many Chick-fil-A franchise owners around the country are setting them up as a thank you to troops who have given their lives in service to our county.
"People have always been touched by it, especially veterans and the generation that has children in the armed forces now," Storm says.
He's set up the table for most of the major holidays since he opened the store in late 2004, but Memorial Day is especially poignant.
"Memorial Day is a somber holiday – it's really about the fallen. The current or recent service members who come into our restaurant are really affected by this," Storm says.
Storm is proud to honor the legacy of service members killed in action. He also sees it as a chance to remind the public that Gold Star Families, those who have lost service members in action, must live with an empty seat at their tables every day.
"There's no doubt this is an opportunity to teach people, specifically those who don't have any connection to the military, about hte sacrifices our service members make and that hose losses last," he says.
"The response is pretty incredible", she says. "It touches people."
Blackstock says she was especially moved by something a customer added to the display.
"One day, an article showed up on the table. It was a newspaper story about a local veteran who had been missing in action since Vietnam," she says.
That service member is one of more than 1,600 troops still missing from the Vietnam War.
Ann Mills-Griffiths, Chairman of the Board for The National League of POW-MIA Families says it gives her pride to see restaurant companies like Chick-fil-A set up Missing Man tables.
"It shows the military service members and families that people care," she says. "And it's a wonderful education, especially for children and young adults, to learn more about what patriotism and commitment really mean."
Command Sergeant Major Weik agrees.
"We don't have a draft anymore, so we have a lot of people who are far removed from the devastation of war," Weik says.
"They can see that empty table and know that there's someone who is no longer here because he or she volunteered to put himself between them and the wolf at the gate. And that soldier's family: their spouse, their kids, their parents have to go on. That empty spot is permanent. We live it every day."
It's an unrelenting memory and a substantial load to bear.
"When you truly don't know if orders you've given your guys will result in them never being able to see their kids or be at the Thanksgiving table, it weighs heavy on you. So if that Missing Man table can educate people who go to Chick-fil-A, then I think it's fantastic," he says.
C

ommemorating Memorial Day

As for Weik's holiday plans, he will do what he does every Memorial Day: visit the 173rd Airborne Memorial site at Fort Benning. He'll look at the names on the stones and again thank them for making the ultimate sacrifice.

He hopes others will take a moment out of their day to remember as well.

"I think on the Fourth of July, you should celebrate and shoot fireworks. But I also think you should read the Declaration of Independence to remember what it's all about," Weik says. "And on Memorial Day, when you have a day off and you're grilling your steaks and you're surrounded by everything that you've got, just take the time to think about that 19-year-old kid or that 30-year-old sergeant or that 40-year-old sergeant major who stood up and said I'm going to take care of this so you can have all that."
Creating a Missing Man Table at Home
California gal, Lisa Rich, sent the above article.
Filed under: America's Veterans, Conservatism, Democracy, Military, National Security, Truth | Leave a comment »